A Tribute To The Kind Donors & Families Who Have Donated
Dear Valued Customers and Friends,
Thank you for engaging our Fengshui Audit service in 2022 as well as for participating and contributing in our Charity Sales.
We have used a portion of the Fengshui fees that you have paid us previously to engage our services for this Charity Event in order to show our appreciation by enhancing Good Merits for you and your family.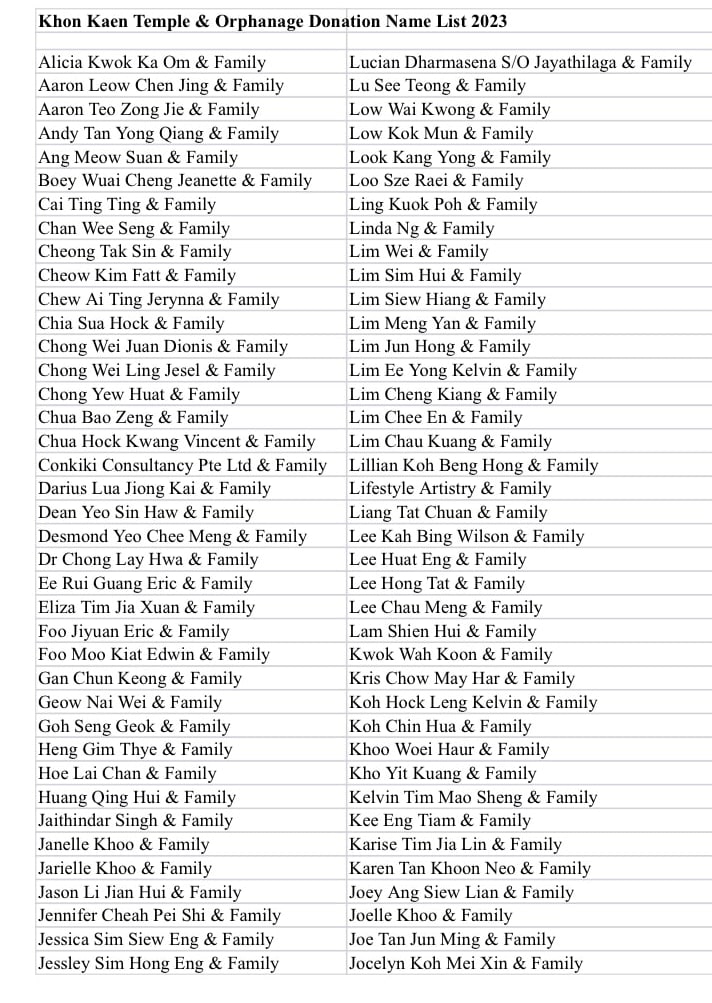 The name list has been submitted to the temple for enhancement of Merits.
We have accumulated a total of $19,000 SGD converted to a total of 471,000 Thai Baht.
The following are our expenses and balance stated in Thai Baht:
300,000 – Refurbishing the Funeral Hall.
21,000 – Prayer Offerings to the temple, monks and miscellaneous items for the ritual.
30,000 – Sponsored a New Buddha Statue for the Funeral Hall.
52,000 – Items for donation to the 02 Orphanages.
Total Balance – 68,000 will be carried forward for future Charity Events in Thailand and will be updated accordingly.
Village Temple is Wat Nong Sa (Khongkaram) Ban Nong Sa. Wiang Kao District (Phu Wiang). Khon Kaen Province.
วัดโนนสะอาด (คงคาราม) บ้าน โนนสะอาด
อำเภอ เวียงเก่า จังหวัดขอนแก่น
Please refer to these FB links for the photos and videos of our trip to Bangkok.
Donation to 02 Orphanages:
https://www.facebook.com/100001126066709/posts/5840337219347089/
Donation to the Village Temple:
https://www.facebook.com/100001126066709/posts/5844906568890154/
Video with descriptions for refurbishing the Funeral Hall:
https://www.facebook.com/100001126066709/posts/5844487922265352/
Some videos for the Reflection of Merits to all Contributors and Supporters!!
https://www.facebook.com/100001126066709/posts/5847825521931592/
Immediate start of work for the Funeral Hall:
https://www.facebook.com/100001126066709/posts/5852108631503281/