Testimonials
Here are just a few of the responses we have received from some of our satisfied customers about our services. These good responses have kept us motivated to keep working hard for you! Keep them coming, we love to hear from you. Please send us your feedback here.
Super VIP
Sincere thanks to our Super VIP for taking their precious time to give us this wonderful Testimony.
We have been together for so many years and supporting one another throughout, growing together and seeing them becoming so successful in life.
Thanks once again and best regards to all of them!! Cheers!!!
Joseph Tan & Shing Ann
Sincere thanks to our valued customers for their lovely testimony.
Wishing them all the best for their health and may all their business flourished and success in their life.
Mr Jinsern Ng
Thanks for the efforts and sincere video testimonial from our customer, Mr Jinsern Ng, who had personally experienced positive and significant results within a few months after his consultation with us earlier this year.
We are very happy that he came over to our office and shared his life changing experiences with all of us. He is filled with positive energy and mindset to achieve greater success in life.
Wishing him all the best in his future endeavours. Cheers!!!
Kelvin & Jocelyn
A true gem and expert in this field and Master Rayden Sim deserves this testimonial.
Our encounter with Master Rayden started from 2011 and was purely coincidental, where we were searching for some Fengshui advice for our first property, and Master Rayden was able to fit into our tight timeline. It was through this fluke of luck that we got to meet him and this persisted till today. Master Rayden may come across as someone stern and fierce looking as first impression, however he is really a master in his own arena in all aspects. Over the years, Master Rayden has truly earned our respect in many aspects, which we hope can be shared for the benefits of others.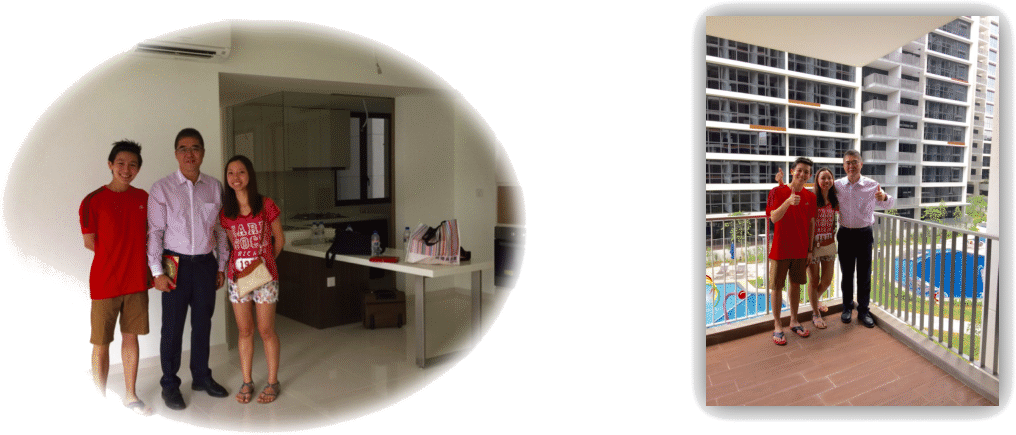 Firstly, Master Rayden has very strong knowledge of his own expertise, and at the same time not afraid to share and explain Fengshui concepts to his customers. Often we, as customers might be worried if the Master has any hidden agenda. We can confidently vouch that Master Rayden is someone who put his customers' interest before his. Master Rayden puts across various important Fengshui concepts and designs simply to his customers and it is well blended into our modern design home.
What further impressed us is that every potential customer is valued and treated with great respect by Master Rayden. Whether his customers engage his services or not, at the end of day is secondary to Master Rayden, which is why our encounter with him has maintained and developed for 6 years, and still counting.
Master Rayden has helped us to select our property, assisted us over the years, by providing important advices pertaining to our Customary Chinese wedding rituals and auspicious date selections, renovation proposals to blend with positive Fengshui concepts, and even for our recent baby Chinese name selection. Throughout the years, he has helped us to form a Love Nest and we have developed our careers successfully.
Often Master Rayden goes the extra mile to provide additional assistance to us and has gained our respects throughout the years. A visit to Rayden's Facebook page can appreciate the amount of effort that he puts in to share information with customers as well as the numerous compliments.
One can really deem the services from Master Rayden Sim of Tianlu Geomancy Pte Ltd as a "One Stop Shop" to meet the demands as we move into different life phases.
Lastly, we personally feel a very strong differentiating factor of Master Rayden and many other Masters, is that he does not believe in hard selling tactics in his dealings with us. We personally vouch for that, as Master Rayden believes in minimal changes while still being able to achieve maximum benefits for his customers. Even for the products that he endorses and sells, he rarely hard sell to customers, and viewings at his Woodlands showroom are often casual, relaxed and non-obligatory.
Through all the services rendered from Master Rayden, we are very satisfied as a customer, as it has benefited our family positively in many aspects. I am happy to know Master Rayden both from a customer perspective, and we have turned good friend today.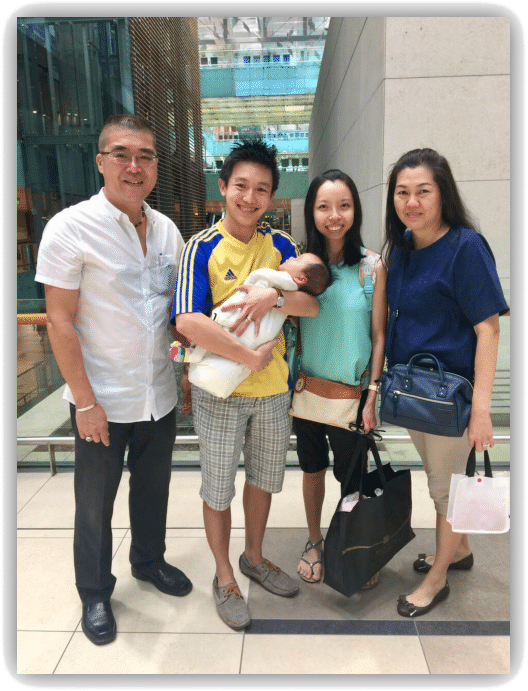 Kelvin, Jocelyn and Baby Karise
Twin Waterfalls
22/06/2017
Desmond Toh & Family
We started to know master as a stranger from Facebook because of the 8 coins to be placed on main door.
Tried for fun but things turn out positive and it got better and better. (Eg. Work gone smoother and haha…. small sponsorship from Singapore Pool.
Master had tasked me what I was supposed to do. I am a bit Kiasu, once done i send the pictures to master and wanna ensure i did the right thing. Thank you for all the things you done for us.
Master Rayden Sim we thank you for your patient and taking your time guiding us, teach us and making sure that we all understand what is needed to be done and avoided. Thank you.
Desmond Toh & Family
01/05/2017
Tommy & Lorraine
Dear brother Rayden,
Destiny brought us together in a strange way. From a non-believer to a believer of Tianlu today, it certainly tells a lot on the power of this celestial creature.
We still vividly remember the day we step into your office to have a look at your Tianlu more out of curiosity rather than any real intention to purchase anything; we were rather taken aback by how pricey some of the Tianlu are. Little did we expect to walk out of your place purchasing anything.
However, at the end of the session where you had patiently explained to us the power of Tianlu at no obligation, we found ourselves strangely drawn to this particular Tianlu and though we did not purchase it on that day, the image of the Tianlu remains strongly engraved in our mind to the extend that we completely disregard the cost and decided that by hook or by crook, we must 'invite' it back to our new home.
Prior to making the decision to invite the Tianlu to our new home, we were having so many issues with our reno to the extend that we were almost at the brink of breakdown and seriously considering to sue the company for the super long delay and lousy workmanship that require umpteenth rectifications.
Miraculously, since the day we made a placement for our Tianlu, one by one, our reno issues slowly reduced itself to the bare minimum or at least became more manageable. Whether it is by pure coincidence that the power of Tianlu really did manifest to help us resolve our reno problems, that honestly, we don't know & don't wish to second guess.
But having the sheer luck of having our problems resolve by itself after having our Tianlu is already a blessing i would say. It has been almost a month since we moved in and so far things have been well for us if not even better than before honestly.
The future is yet to be known but to date we love our Tianlu & feel proud to own it and maybe who knows… in time to come, we might really strike big time in lottery. LOL!! If that day comes, I will definitely remember my promise to you. A trip to Paris fully sponsored by us!! LOL!!!
Jokes aside, more importantly so long as it protects the family well in terms of bestowing upon each of us good health and preventing any mishap, that by itself, honestly is better than having all the wealth in the world. Of course, not forgetting to bring happiness to this family as well.
Wah, just realised I had written an essay rather than a 'testimonial' for you..pai sey. Will end off here but before I do so, sincerely wishing you all the best in health and wealth.
HUAT AHHHH!!!
Tommy & Lorraine
13/03/2017
Angela
Hi Rayden,
Thank you for having such a big heart and sowing good karma on behalf for our family. We have searched a few FS website before deciding which FS Master to use for our new home as we have no experience and referral. At the end we decided to choose you.
Mainly because we see that you will donate part of the FS service fees to the needy. It shows that you are a person with great dignity and a big heart! Btw, thank you for listening on our last meeting though it has nothing to do with FS.
Cheers,
Angela
2011
Steve & Belle
Master Rayden,
Thanks for helping us with our new home shifting-in preparations and the Fengshui consultation.
My husband & I were worried when we have to start finding a fengshui master to help us with our shifting of new house as we do not have any contacts or even good recommendations. As this is a long waited house that both of us are looking forward, we were super nervous & excited.
It was really by pure luck that we had come upon your website through this forum. My husband was taking a risk to contact you & request a quote. He was amazed by your knowledge and collection of Pi Xius that you have. Hence, he took me along to meet you & discuss in further details. In fact, we were both very comfortable with meeting you as there's no hard sell on any of your collections. We were given ample time to discuss & find the "ideal" Pi Xius. Your patience, friendliness and always ready for my enquiries make us feel comfortable and at ease.
I sincerely thank you for going the extra miles when we had given you such short notice to prepare the "dong tu ceremony" to avoid the Qing Ming period. Now that we had shifted in, there's only peace & happiness in the house & we definitely feel a great difference from the previous environment that we had stay. What we had paid & gotten in return is really un-measureable as we gotten SO MUCH more than what we had paid.
Thanks Master Rayden, thanks for everything. We wish you all shine in your Feng Shui Arena & let more people know the benefits of Pi Xu.
Thank you.
From Steve & Belle
2011 Fernvale Road
Yishun
Dear Rayden,
It is we who should be thanking you Although you were very busy with the fish shop opening and other clients, you still spend so much time to thoroughly help us from beginning till end, auditing our house in very detailed manner, settling our Pi Xiu and patiently answer every of our questions. We really feel comfortable talking to you, that's why we engage you in the 1st place because we felt that you are humble, experienced, knowledgeable and sincere, directly telling us what we need to know without twisting and turning.
We really appreciate all your prompt responses and follow up, and also the feng shui and great life advices that you have given us Before meeting you my husband was actually feeling quite down, but recently he is very positive and happy I'm very happy and comfortable with the practical feng shui solutions as well. It also means a lot to me that my husband's altar and my altar are both respected equally despite different religions.
Meanwhile the more we look at our beautiful Pi Xiu the more we love it! It's hard to describe, but we just feel so very good about it!! That day at the fish shop opening day we took so long to choose our Pi Xiu (too many good choices), furthermore you were so busy with the other people and everything, but still you were very patient to answer our many many questions, never push us or pressure us.
I guess it's as what you said, it's the Pi Xiu that chose my husband, because no matter how many we saw and liked, he always go back to the one that he can't keep his eyes off. It's quite amazing how this Pi Xiu enlivens our surroundings when it is placed in our hall now:)
Honestly we never regret our decision to engage you, because not only we gained the positive energies of feng shui, but also a friend/ brother as well. Thanks so much again! Hope we will continue to keep in touch always.
We truly wish you great success in your business as well.
Regards
Blk 752 Yishun
2010
Jeffrey & Lydia
Dear Rayden,
When we started searching for feng shui masters for our house, it proved to be a challenge. Famous feng shui masters often come with a hefty price tag & coverage of service is not necessarily on par with what one pays for….. just like world cup. After researching extensively, about 10 to 12 feng shui masters were shortlisted. They were either pretty well known in local/international circles & a few came recommended from forums. Among them was Tian Lu Feng Shui from http://www.sengkang.com/forum
Research was done on their website & I called up a few to clarify on the exact services they provide. More importantly, it was to assess the level of chemistry with them. While I had my queries answered, I came away with more questions. Exchange of information was strictly one sided ie. I ask you answer. For the amount of $ they charged, I felt they could have done more. I had the feeling that if you wanted more answers, you had to pay more for it.
I browsed through Rayden's site & did research on Pixiu as well, since it was my 1st time encountering it. Of course, I called him up to confirm on what he has to offer. For the amount he charged (packages are listed clearly what is included) & variety of services available, it seemed reasonable. We narrowed it down to Tian Lu Feng Shui & paid his shop a visit for a 1st consultation which did not require a confirmation on that visit. When we stepped in, I was greeted by Rayden whom I did not expect to be younger than expected.
Before starting, we spent quite sometime looking at the pixiu he had on display. The place was cosy & the consultation went smoothly. In fact, being a kiasu 1st time home owner, I had prepared an entire list of questions to "grill" Rayden with. He was however, patient enough to answer all my questions no matter how silly & trival they seem. At the end of the consultation, we had signed up with Rayden including getting Pixiu for the house. The chemistry was there & more importantly, it was conducted in a non business like atmosphere.
The follow up on site consultation went as planned & Rayden advised us on the necessary layout, what to avoid & what to have etc. He would also answer any queries which we have later on.
I've to thank Rayden for being so patient with me throughout right till the last part of moving in & installation of the pixiu. Another fengshui master would have lost his/her patience long ago.
The house feels peaceful with the right fengshui advice given & the pixiu to provide extra security & $$$ attraction. In fact, the week after pixiu was installed, I narrowly missed the top prize.
Thank you Rayden, once again from us, it's been a pleasure engaging your services & you can bet if we need fengshui advice, "Tian Lu Feng Shui" will be the first to come to mind. Keep in touch, Master brother Rayden.
Yours sincerely,
Jeffrey & Lydia
2010 Sengkang
Miss Joy
Dear Master Brother Rayden,
Although I have not completed the whole package because I have not started renovating my flat yet.. But i wish to say a BIG thank you to you.. Thanks alot for helping me on thursday for my door opening and dong tu ceremony. If not I will be at a lost and could not have possibly completed everything on my own.
After everything was done and you have left, I was shocked to received your sms asking me to buy 4D on my unit number this weekend.. and yesterday you reminded me through sms again to buy 4D.. and I did.. and today I really strike 4D!!! Haha!! Although only I-Bet and the winnings very small but I believed it is a good start!! Because the last time that I strike was like 2 years ago..
I am glad that I got to know you through this forum and eventually engaged your service. Although mine was quite a rush one. You have been very patience with every of my query and I also bugged you with queries regarding pi xiu and the prices etc. You have replied all the questions promptly. Initially my budget was to get a pi xiu below $1K but ended up I fell in love with the white jade pi xiu and bought it even though it exceeded my budget but I believed you gave me a good discount on that.
Now left the last part to be completed once my renovations is done… Till then.. we'll meet again. Haha! Thanks bro!!
Miss Joy
September 2010
Blk 441A Sengkang
Melvin Pang
Dear Master Rayden
Thank you for your great help in calculating the birth dates for my baby daughter and also re-calculating it within 24 hours after you were informed by us last minute that our baby was due to come out much earlier than expected.
I am really grateful for your sincere help and close follow-up. You are one of those rare feng-shui masters that really have a kind and sincere heart to help those people in needs. You are not calculative and your price is very reasonable.
I will defintely recommend you to any of my friends and relatives who need a good, reliable, trust-worthy, efficient and experienced fengshui master.
Thank you for your help once again and I am very glad that I engaged your services.
Regards,
Melvin Pang
Punggol Treelodge
22 July 2012
Shireen & Zhewei
Hi there Rayden Shifu,
I was introduced by my friend Evlyn Ng & hubby, whom recommended her another friend before me.
My hubby is a Christian, while I'm a free thinker. My dad is a Buddhist and my mum is a Taoist. We are getting married and had purchased a resale flat at Geylang East. I have been very paranoid about all theses wedding traditions and fengshui myths actually. But my main goal is to hope that everyone is healthy and happy (harmony).
So happen my hubby's friend owns a family business of a Wedding Preparation shop. So we bought our preparations from them and let them calculate our wedding dates and when to Guo Da Li etc.
Until my resale flat had a very bad start. Our house was being harassed by loan sharks due to debts incurred by our previous owner. On our very first day of hand over keys. Red paints were splashed all over our gate and door, followed by being splashed green paint, black paint, being written all over O$P$ and worst of all, our city gas meter and gate was been burnt! We experienced 8 cases of harassment within a month! We learnt that previous owner owe not just 1 loan shark but alot of them! We were so helpless then! Nobody seems to be able to help, nothing can be done by the police too. We had no choice but to approach GRC MP (Yao Chi). Finally, police fitted CCTV to monitor our unit now.
I felt that its a really bad start, then I heard from Evlyn and some friends regarding FengShui, so i called Rayden Sim Shi Fu. Rayden is flexible about me & my hubby's differences in religions. He let us discuss first before we made the payment. Very sensitive and understanding. I'm sure my hubby likes his style. thats why till today he can still remind me to close the toilet bowl cover 🙂 Im glad so far, we were doing fine.
I liked the home consultations. As Rayden asked for our opinions on where we planned to place our furnitures first. Then he suggests to us how we can place it to improve our home Feng Shui. Thanks for coming over to audit our house on a last minute basis and doing it so late at night, before you head for your trips. We are very grateful for all the things that you had done.
We had decided to let him handle our wedding preparations too. As he will always be there to answer to our doubts and he will still sms us. Remembering us after being busy for 2 weeks!
I will highly recommend him to all my friends!
Yours Sincerely,
Shireen & Zhewei
Geylang East
June 2010
Chun Kiat & Hui Shun
Dear Rayden,
My humble apologies for not being able to leave a note to thank you sooner. I have been busy with work and hunting for furniture since we last met. I am glad to know from your updates that you have been equally occupied, aiding others with your expertise and kindness.
My wife and I would like to thank you for auditing the fengshui of our flat, advising us on the auspicious dates, highlighting valuable points to note when we planned for the renovation of our flat and helping us to invite this Pi Xiu back to our flat.
I find you both personable and approachable. This is important because I am ignorant in matters pertaining to fengshui and you have allowed me to dare to ask many questions freely to clarify my doubts, sometimes even interrupting your dinner. I think you are also very accommodating and professional because you listened to our renovation and furnishing plans before you dispensed your advices, which are practical and did not cause us to make drastic changes to our initial plans. We are happy that our flat is cosy the way we like it to be.
After inviting the Pi Xiu to our flat, I think the flat feels more placid. Even my mother, who visited the flat before the renovation had started and after the Pi Xiu was placed, commented that "the place feels different in a good way". A few friends have also commented that the Pi Xiu "looks expensive" and "is masterfully crafted from quality jade". With these endorsements, we are thankful that we had paid only a very reasonable cost to enjoy the protection prowess and aesthetic value of this Pi Xiu.
We sincerely wish that many more people could enjoy bountiful peace, good health and wealth through you. All the best and do keep in touch!
Warmest regards,
Chun Kiat & Hui Shun
Tivela, Sengkang Central
Satisfied Customer
Hi,
I would like to share with you my encounters with Rayden,
It all started about 1 year plus ago when I was in the midst of renovating my Seng Kang flat.
While my wife and I were busying surfing the various local forums for ideas, we came across his Tian Lu Fengshui website and we were smitten by one of his Pi Xiu. That prompted me to give him a call to enquire about the price and to arrange for a meet up. That meet up had been very informative to us! Rayden was patient and kind enough to explain in details our queries about Pi Xiu and its placement in our flat.
We did not strike the deal with Rayden on our first meet up. It was only after a couple of visits to his shop before we bought our very first Pi Xiu from him. Rayden remained helpful and patient with us throughout our multiple meetings and that really impressed us. Unlike many sellers who would try all means to convince you to buy on the spot, Rayden was totally patient and we never felt obliged to buy from him. It was more like exchanging of pointers and 'friend to friend' discussion.
During his first visit to my flat to determine the best location to place our Pi Xiu, he gave us invaluable renovation advice too. He was aware that I had already engaged a fenghui master but yet he was generous enough to share with us his expert opinions about the wall colours, placement of furniture, what to look out for etc totally free of charge! To be frank, we were unaware that the wall colours matters and were glad that Rayden was there with us. Compared to the other fenghui master whom I had engaged, we find that Rayden's advice was more flexible. His belief is that there are more than one ways to overcome any 'BAD' spot in the flat and then he provided us with alternative solutions which we applied and very grateful to him for his unselfish act.
I believe his feng shui advice will appeal to those who have certain ideas of how their flats should look like and hope that the feng shui advice or items will blend well with their concepts. He is more accommodating to your concept and will propose solutions that will achieve 'Win-Win' results for most aspects. Nevertheless, expect to receive his very frank opinions and if he has no alternative solutions, he will tell you so.
Another thing I like about his service is that he will follow through with his clients. At any point when we are unsure about some feng shui stuff, we will call him at his mobile and he will attend to us. If time permits and he is available, I am confident that he will be there on site to advise his customers.
I am not sure if you guys are aware that Rayden offers wedding services package (ROM date, Customary wedding date, Guo Da li date etc too. I must comment that his service is extremely good, at least to me. I engaged his service last year and because of various reasons, my wife and I had to change my Guo Da li and customary wedding dates couple of times. Rayden was equally busy as he had to reassess the dates and reply us. Nearer to our customary wedding day, he helped us to prepare all the offerings and accompanied us to the temple for prayer.
For some special reasons, he even went the extra mile by turning up at 5 am at my place on our customary wedding day and accompanied me and my brothers to fetch my wife. Well, I am not sure if you can find such service elsewhere without burning a big hole in your pocket. In fact, we gave him an Ang Bao containing nominal sum as a token of our appreciation.
Michael & Cherie
To Rayden,
My wife and I would like to express our heartfelt gratitude to you for your help rendered throughout our wedding preparation.
Michael & Cherie
Compassvale Walk
Joyce Lim
Hi,
I would like to share my pleasant encounter with Rayden. Though I am not staying in Seng Kang he was nice enough to offer me the special rate he gave to Seng Kang residents for Feng Shui consultation because I was recommended by one of the Sengkang.Com members.
He was also kind enough to fetch me to & fro the MRT station to his office to view the Pi Xiu as I was heavily pregnant. He even gave me a Hu Lu blessed by him to hang at my son's bed after knowing that my son falls sick very frequently, that was without charging me a single cent.
Rayden came to my house for feng shui consultation on a Sunday afternoon sacrificing his family time. Luckily for me my house was considered ok & just needed some minor furniture rearrangements. He was very patient during the session & even offered to help me with the Pi Xiu placement even though I may not end up buying it from him.
I still email him questions that I have on my house feng shui & he gladly answered promptly. Finally thanks to Flyersummer of SK.Com for introducing Rayden to me.
Joyce Lim
Kim Tian Road
Lewis & Irene
Master Rayden,
Thanks for helping us with our new home shifting-in preparations and the Fengshui consultation.
When I first came to know you through Pi Xiu, I was amazed by your knowledge and collection of Pi Xius that you have. Your service of going on-site to determine the proper location to place the Pi Xiu tells me that I have found a man who knows his stuff.
Your patience, friendliness and always ready for my enquiries make me feel like you are an old times friend. You even surprised me when it comes to the Feng Shui Audit…most of my friends encounters with Feng Shui audits are that they would be asked to buy many things (which are rather expensive) from the Feng Shui consultant after the audit which they claimed it is to enhance the good chi or counter the bad chi etc etc.. however you didn't.
You just suggest and recommend, not in any sense of promoting and selling. I'm surprised you didn't do the ' stuff promoting' and I'm also happy that I have found a good Feng Shui Master. After shifting into our new house, my wife had no problem sleeping by herself at home as compared to our old place, she feels so much 'safer' by herself now, thanks for the thorough house cleansing that you have done.
Though you asked me not to address you as Master, I can't help it because you have already earned my respect and trust after this Feng Shui Consultation, I have learnt some new meaning about Fengshui.
Thanks Master Rayden, thanks for everything. Hope you will strive and shine in the Feng Shui Arena and may your Tian Lu Xuan expand and grow so more people will get to know about Pi Xiu and your philosophy about life.
Lewis & Irene
Punggol
January 2008
Patrick Goh
Dear Master Rayden,
I am writing to express our heartfelt and most sincere gratitude and appreciation to you for all the kind assistance and expert advice you have given to all of us.
It is certainly fate for us to have met you via sengkang.com at the recommendation of other members at a time when I was hunting high and low up and down for a reliable and trustworthy geomancer online for my new house.
You are very patient and tolerant towards me at a time when I was very stressed out by all the little nitty gritties of geomancy audit, open house, shift house rituals, placement of Buddha's altar and pixiu etc.
Way before as you audit my god-parents house, you have also clearly and consistently exhibited exemplary qualities of a good geomancy master. You are compassionate, kind, understanding and have a heart made of gold. You are very detailed, thorough and clear in all your explanation why certain things have to be done in a certain way. My god parents and family are absolutely grateful to you as well.
Master Rayden, I also cannot thank you enough for helping me with the open door ritual even though you were very sick and had a bad throat that day. Though you were going to be late as you were queuing for the doctor, you informed me way beforehand. Though we had to wait for you, it was definitely worth waiting for because, without your valuable presence, things definitely would not have gone through so smoothly that day.
You are also very assuring and calming towards me when I was very stressed out trying to perform two rituals (placement of the altar and shift house ritual) within 2 auspicious hours! I was very worried about having to complete them on time and again you came to my rescue again. Not only that, you have also brought me some luck in 4D, though the winnings may be small but it is definitely a good omen to touch some luck the day before and again on the day I moved to my new house. Hence, it cannot be pure coincidence and I am sure your powers must have worked somehow.
Compared to other well-known and highly advertised geomancy masters who charge sky high prices but are yet snobbish and proud, you are very humble, modest and down to earth. When you promise something or have committed yourself, you make it a point sure to fulfill your words. You suggest changes, modifications to renovations and decorations or purchases of geomancy items only on a need to basis unlike many others who coerced clients into buying many geomancy related items making their homes or offices look like little temples.
We wish to say a big 'THANK YOU' to you once again. My god family and I will definitely recommend your services to others and have no qualms about you performing again at the highest level of professionalism and commitment to your clients. We know for sure you will not let your clients down if you agree to take up the case, just like you have not let us down too.
Yours Sincerely,
P/S: This is a computer generated letter and does not require any signature. Please email me at patrickgohhs@hotmail.com if you have any queries.
January 2008
Terence & Serene
Dear Rayden,
"As newly weds, your Feng Shui service is essential. When we first met you we felt that you aew sincere, honest and knowledgeable in this field. You provided us with great ideas when it comes to integrating Feng Shui in our home design, which saved us a lot of time and effort in the renovation."
Terence & Serene
Simon & Florence
Dear Master Sim,
Thank you so much for all your help!! We cannot express fully how much you have helped us. You are amazing & wonderful!! We are incredibly impressed and amazed at your intuition and deep connection to the universe!
To express our appreciation for your good work, we like to share our moments of joy with you. Your expertise, patience and guidance have flowered positive energies on us and within a short period of time, we move into our dream home. It is unbelievable as we never thought we could afford it but with the positive "chi" that you have "blessed" us with, we are able to fulfil our dreams.
You have unselfishly accompanied us with our house hunting over a few weekends and we finally found our dream home. The view is spectacular with panoramic sea view and ever since we move in, our friends have been commenting on how comfortable and what good energy our home has.
We are thrilled with the results we have seen as a result of our consultation. Our dreams are to make our home as excellent and supportive for our goals as possible. Rayden's suggestions are invaluable in creating a beautiful, supportive environment for our family.
Lastly, we must agree there is no doubt you have many gifts and much magic, Rayden, and an ability to heal others is a proven one.
Thank you
Simon & Florence, Costa Del Sol, Singapore
Mr & Mrs Cheow
To Tian Lu Feng Shui,
We are glad and thankful till this day that we have found Rayden. He is very professional and knowledgeable as he is able to provide us with good advices on the Feng Shui of our home.
With Rayden's professional guidance, we are now more confident and able to deal with things in a different manner and in broader way. Besides, Rayden charges his service reasonably.
By Mr & Mrs Cheow of Sengkang East Way
Esta Mun
To Tian Lu Feng Shui,
I first got to know Rayden from an online forum where his sincerity in sharing his expertise to benefit others (even strangers) was obvious. As a practising psychic myself, we had hit it off exchanging thoughts, philosophies and experiences. At a time when I lost my job, he visited me personally to help me. As the saying goes "a friend in need who is a friend indeed" and Rayden is such a Feng Shui master… not just a FS master but also a friend to many of his clients.
Esta Mun (aka bunnypsychic)
Mr & Mrs S.H. Tan
在很偶然的机会下认识了Mr. Rayden Sim。几次的交谈后,感觉到他的用心与真诚,便决定请他到家中来进一步了解情况。
经过一番观察 (共两次), 他一一的逐步解释不对与应该修改的地方。并且尽量达到最经济与简单的做法。
我们都觉得他的做法非常有理,收费公道(共到访三次)。所有该修改的都不会对原来的摆设有太大的影响,也无须太多敲打。我们将会再邀请他做最后一次的检查,以確保无差错。
我们将会推荐给有需要的朋友这位与众不同的风水先生协助他们,解决问题。
Mr. & Mrs. S.H. Tan
Ah Keong
Dear Master Rayden,
I would like to express my heartfelt thanks to you for helping me to pull through the difficult times early this year. Initially, I had some other Feng Shui Masters to check my house. They just come and go like the wind, pointing here and there, giving advices only when I asked them more in details. However, life was not getting better; in fact, it got from bad to worst.
I was not doing well both at work and with my financial status. My hawker stall was taken back by my landlord and I could not find a good job. Having to support my family of three children and my wife was not working, life was very tough.
Luckily, I met you at the lowest period of my life; you are so willing to help me even when I cannot afford it at that time. I can see that you are really sincere in helping people and through you, I have learnt that money is important but there are other things that are more important in life too.
Having you over at my house for nearly two and a half hours was indeed a long time to go through all the details and help me to plan the rearrangement of the layout in my house.
I rearranged my living room, bedroom and done all the other stuff according to your advice and life has changed for the better since then. Money was coming in slowly and I got a stable job. When I struck 4D, I wanted to treat you for dinner but you rejected me and asked me to keep the money for my family and also do some donation to the needy. That is something that I will appreciate and remember for the rest of my life.
Now, I have lots of overtime work and occasionally a bit of small lottery luck which means more income for me to settle my children's school books as well as other needs.
Thank you once again and I am sure that you will continue to help others along the way.
Ah Keong
Bedok Reservoir Road
Testimonials for 2008 Coins
Click on the following images to view the respective testimonials and pictures from our customers. The name and profile picture of our customers have been censored for privacy purposes.